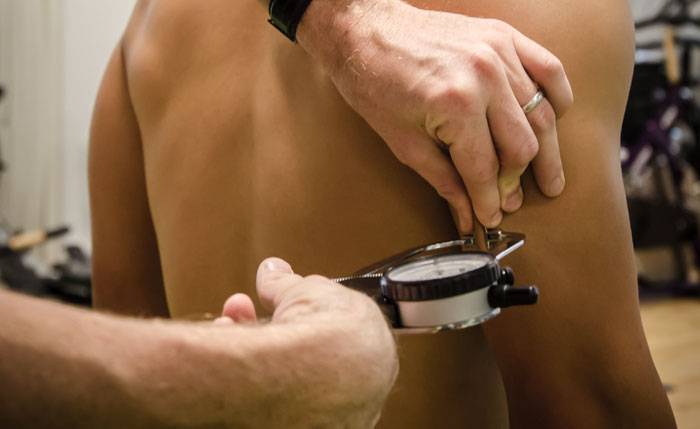 Body Mass Assessment: Skinfold measurement
BY admin IN Exercise Institute News On January 3, 2016
Skinfold assessment:
Skinfold assessment is a quick and easy way to assess your body fat % and track how you are losing weight, if you are losing weight too rapidly and also to assess the quality of your dietary practices. We offer skinfold assessment for as little as $25 per assessment,
Body mass is known to have an effect on three categories of weight sensitive sports being gravitational, weight category and aesthetic.
In gravitational sports such as cycling extra mass creates a mechanical disadvantage in the form of resistance via gravity, reducing performance at gradients above 1.5% (Heil, 2002). The power to weight ratio is thus an important determinant in cycling performance. The power to weight ratio is reduced with increasing fat mass, however is improved with increasing muscle mass (Beekley, Abe, Kondo, Midorikawa, & Yamauchi, 2006).
Kinanthropometry is the measurement of body dimensions – of which skinfolds is a part of – and the peak body of this study is the International Society for the Advancement of Kinanthropometry (ISAK). Skinfolds are a method used to assess the thickness of fat under the skin. Skinfolds are highly correlated with the method dual energy x-ray absorptiometry, one of the most accurate methods to assess body fat (Eston, Rowlands, Charlesworth, Davies, & Hoppitt, 2005). A common observation is that for very 10mm of thickness lost, this equates to approximately 1kg of fat mass lost. In this way, skinfolds can be used to assess changes in fat mass, which is associated with cycling performance.
At the Exercise Institute we have a level 2 qualified kinanthropometist who is able to accurately conduct skinfold assessments. Please contact training@bradhall.com.au
Beekley, M. D., Abe, T., Kondo, M., Midorikawa, T., & Yamauchi, T. (2006). Comparison of normalized maximum aerobic capacity and body composition of SUMO wrestlers to athletes in combat and other sports. Journal of Sports Science and Medicine, 5, 13-20.
Eston, R. G., Rowlands, A. V., Charlesworth, S., Davies, A., & Hoppitt, T. (2005). Prediction of DXA-determined whole body fat from skinfolds: importance of including skinfolds from the thigh and calf in young, healthy men and women. European Journal of Clinical Nutrition, 59(5), 695-702. doi: 10.1038/sj.ejcn.1602131
Heil, D. P. (2002). Defining the Role of Body Mass as a Determinant of Time-Trial Cycling Performance. Medicine & Science in Sports & Exercise.
---
6 years ago / Comments Off on Body Mass Assessment: Skinfold measurement
Tags:
skinfold measurement perth